The services of the equipped area
The services offered within the equipped area. Taking care of our customers and ensuring their comfort is our main objective, so within the equipped area you can find a variety of services that will make your stay a truly relaxing holiday
Each pitch is equipped with a 6 Ampere (220 Volts) electrical connection via a dedicated socket post and a drinking water tap. 
In a modern sanitary block for men/women, made with the Block house wooden system, with showers and freely available hot water to guarantee maximum comfort and hygiene in all seasons.
An area equipped with sinks for dishes, linen and foot wash basins for maximum comfort and hygiene. 
A barbecue area, entirely built in stone according to the Sicilian tradition, with six separate cooking stations.
After barbecuing, you can make the most of the handcrafted wooden picnic tables scattered around the equipped area for adults and children. 
For the little ones, our favourite guests, we have set up a special area - a green space equipped with games for children of all ages that stimulate adventure and fun without neglecting safety.
An area set up to facilitate the separate collection and recycling of waste to ensure the highest level of environmental responsibility and on-site propriety
Guarded internal car park reserved for our customers' cars and motorcycles
For both staying and itinerant customers, the Loading and Unloading service with dedicated water supply column for Camper vans and pressure nozzles to facilitate easy cleaning. 
Additional service for overnight stops only, from 18:00 to 09:00 including electricity connection and use of Camper Service area.
The most convenient and fun way to visit neighbouring villages, do the shopping or simply meander around without walking or having to move your vehicle.
Swimming pools for adults and children in a large outdoor area, surrounded by a sun lounging area on the lawn with deck chairs and umbrellas to enjoy the summer sun.
Washing machine and dryer
Laundry service with washing machine, soap included and handy clothesline to be placed on your pitch.
Comfortable camping cot which, together with the high chair, will allow parents and children to enjoy a more comfortable holiday.
Always stay connected on holiday with the free Wi-Fi service.
An indoor space is the ideal solution for any type of event or simply to get together with friends. 
Services outside the equipped area
Shuttle Service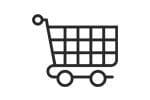 Market
Cash machines
Excursions and sports
Bread deliveries
Breakfast deliveries
Restaurant and Pizzeria
Pharmacy
Petrol station
Car Repair